Summertime is peak golfing season, when days are long and the outdoors are alive and wild. If you're working your way through the best golf courses in the U.S. and want to prioritize scenery, let us be your guide. Some want breathtaking vistas and high elevation (in which case, check out the best mountain golf courses), while others want a serene landscape by way of water. If that's you, snag a tee time at these lakeside golf courses.
It's hot—record-breaking hot—pretty much everywhere right now. Thankfully, America's most scenic lakefront golf courses, where the look of and proximity to freshwater alone, is bound to cool you down as your game warms up.
Sure, you might need to pack an extra sleeve or two of golf balls to make it through some of these water-loaded layouts, but that's a small price to pay to play.
From the resplendent shores of Lake Michigan to the crisp alpine air of Lake Tahoe, here are some of the best public-access (read: golf courses you can actually play) golf destinations to build a trip around this summer.
If you're on the East Coast and not trying to venture too far, heed our list of the best golf courses by New York City or golf courses you can drive to from anywhere in the U.S.
10 Best Lakeside Golf Courses in America
Stateline, NV
As the annual host of the American Century Championship, golf's made-for-TV celebrity event aired by NBC, Edgewood Tahoe bedazzles A-listers and viewers alike with its spick-and-span fairways and postcard-perfect frontage on Lake Tahoe, one of the clearest lakes in the world. Open to the public since 1968, the George Fazio gem is punctuated by towering pines, snowcapped panoramas of the Sierra mountains, and dance-floor-slick putting surfaces, a byproduct of its alpine address, some 6,200-feet above sea level. (Don't worry, the golf gods carry your ball 10-percent farther in the thin Nevada air).
After playing your way around the Lodge at Edgewood, a modern mountain retreat at the heart of the 235-acre property, Holes 16 to 18 treat players to, perhaps, the finest lakeside trio in America, where two par-5s bookend a beachside one-shotter that brims with boaters and rip-roaring fans cheering on Aaron Rodgers, Justin Timberlake, and Steph Curry each July.
Coeur d'Alene, ID
Don't be surprised if the pristine park-like conditions at The Coeur d'Alene Resort feel like a round reserved for only the poshest of private clubs. They're that immaculate. Seamlessly melded into northern Idaho's stunning natural landscape, the Scott Miller-designed track—which debuted in 1991—features one of the most iconic photographs in golf at the par-3 14th hole, the world's only movable, floating island green. After you snap your Instagram shot (and hopefully knock your actual shot stiff), an electric-powered boat named "Putter" chauffeurs you to the 15,000-square-foot green on Lake Coeur d'Alene, which rotates daily thanks to a computer-controlled cable system.
The scenic Idaho Panhandle layout is, of course, anything but a one-hole wonder. Take its dramatic roster of lakeside par-3s, for example, three of which are played in the first six holes. You'll be hard-pressed to find a better back-to-back combo than the aqua-backdropped fifth and sixth holes, a mishmash of exposed rock outcroppings, conifer hallways, a clover-shaped green, and one of the world's largest formal bunkers. Despite playing just a hair over 6,800 yards, your scorecard will thank you for commissioning a forecaddie at this shotmaker's paradise. Note to self: Arrive early to hit a bucket of bombs into the lake at its water-based driving range, a treat in and of itself.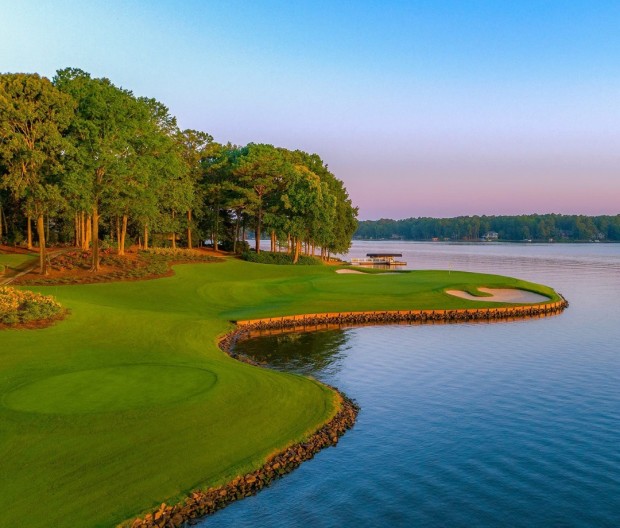 Greensboro, GA
Pound for pound, there isn't a more inviting stateside lake stretch than the closing eight holes at Great Waters, which cozy up to Lake Oconee, a 19,000-acre reservoir between Atlanta and Augusta, GA. The routing at this Peach State playground, one of the most overlooked creations in Jack Nicklaus' illustrious design portfolio, was already a Top 100 staple even before its 2019 makeover.
Fireworks begin at the signature 11th hole, a short-but-strategic par-four that plays to a well-bunkered green on the sparkling waterfront. From there, prepare for a thrilling medley of cove-carrying tee shots, azaleas and Georgia pines galore, and boat-filled inlets with vacationers eyeing your risk/reward inward nine. You'll skirt the lake's edge all the way to the house, ending at the winding par-5 18th, which will tempt a great drive to reach in two.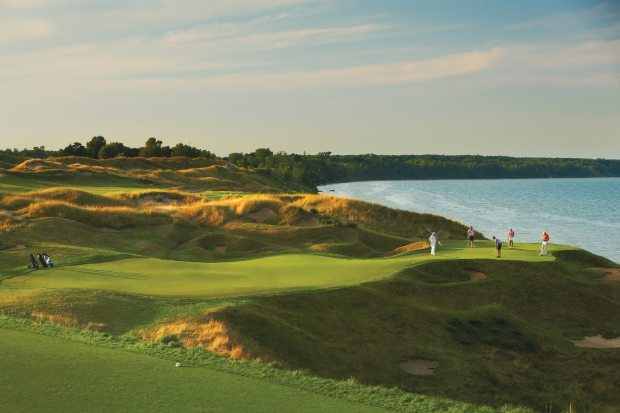 Kohler, WI
Golden, windswept dunes. One thousand-plus links-style bunkers. Ryder Cup and major championship pedigree. Two miles of Lake Michigan real estate—or, as the local caddies have dubbed it, "the Sea of Wisconsin." On most days, this Great Lake's blues and greens, especially on a sun-splashed afternoon, are as striking as the world's most beautiful oceans. It's hard to fathom that in its past life, the Irish-inspired, Pete Dye chef d'oeuvre was a military training base during World War II.
Today, the Straits course sits in the 26th spot on Golf Digest's rankings of the best public and private clubs in America. Forget lake golf, this is one of the premier tracks in the country—period. Lake Michigan can, any time of year here, exhale thick fog and gnarly winds, so be sure to bring your knock-down game to this walking-only Heartland classic. Throughout, you'll feel like you're on the Emerald Isle, even more so when playing its pinch-me collection of shoreline par-3s: O'Man, Shipwreck, Pop Up, and Pinched Nerve. They're as visually brilliant of an assembly as it gets this side of the Atlantic.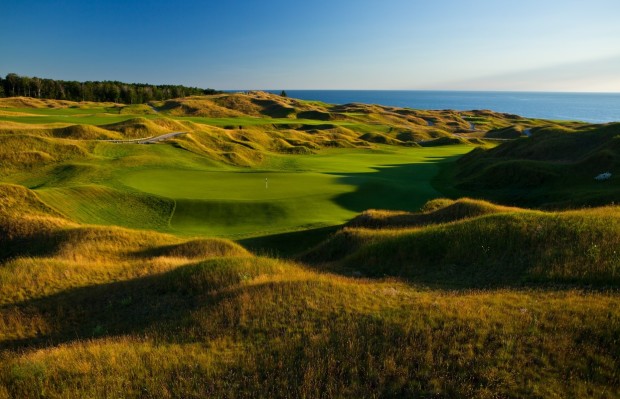 Arcadia, MI
It's been called the "Pebble Beach of Michigan" and "Whistling Straits East," its better-known and aforementioned neighbor on the opposite coast of Lake Michigan. When it burst onto the golf scene two decades ago, it was outshone by Pacific Dunes, highly-rated Bandon Dunes' track that opened to wild acclaim. Even in the Wolverine State, Arcadia takes a back seat to Crystal Downs, the much-celebrated critic's choice 30 minutes up the road.
The company is well-deserved, but unlike Pebble, Arcadia is less than half the price; unlike Whistling, Arcadia's wondrous, wind-shaped dunes are au naturel; unlike Bandon, northern Michigan lures a fraction of the golfers as the famous Oregon pilgrimage; and unlike the uber-private Crystal Downs, it's open for public play. The 633-yard par-5 eleventh hole, a signature hole if there ever was one, funnels through a roving sandscape maze, slowly dripping to a mesmerizing lakeside bluff. Arcadia is one of the top links-style layouts in America. Come for the golf, stay for the sunset ceremony, when a bagpiper playing "Amazing Grace" serves guests a musical nightcap.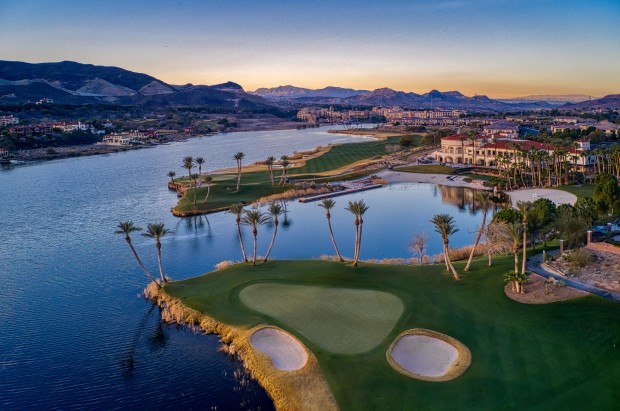 Henderson, NV
Hit your ball in Lake Las Vegas, and it stays in Lake Las Vegas. Golf puns aside, Reflection Bay sits in an upscale community 20 miles east of Sin City, and marks the only "Jack Nicklaus Signature Design" in the state of Nevada. Palm trees mirror off the 320-acre body of water that basks in the foreground of a rugged desert panorama.
The manmade golfing oasis is highlighted by its five holes that grace the lake's edge, emphasized by multiple risk/reward peninsula greens.
Note: Reflection Bay is currently renovating its greens. It will reopen September 15, 2023.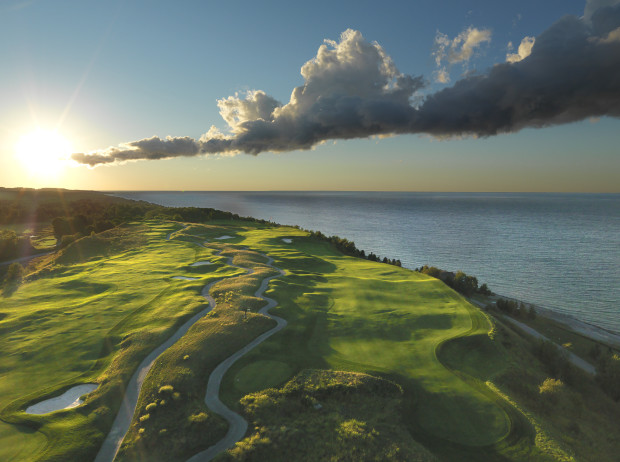 Petoskey, MI
This is another superb Lake Michigan layout, replete with 27 holes at the top of the state's Lower Peninsula. Best played in pairs, you'll want to tee it up at all three of renowned course designer Arthur Hills' nines here, which deliver a variety of views and challenges across a memorable trio of 18-hole routings: Links/Quarry, Quarry/Preserve, and Preserve/Links.
Hovering 100 feet above Lake Michigan, the seventh hole on the Links nine is one of the best par 5s anywhere. Despite its meager yardage, it's a stiff test as it typically plays into the prevailing cliffside winds. The eighth and ninth holes at the Quarry nine, named for the abandoned shale quarry the course snakes through, make for a great one-two finishing punch on the lake, with the par-3 eighth taking cues from Pebble Beach's famed par-3 seventh.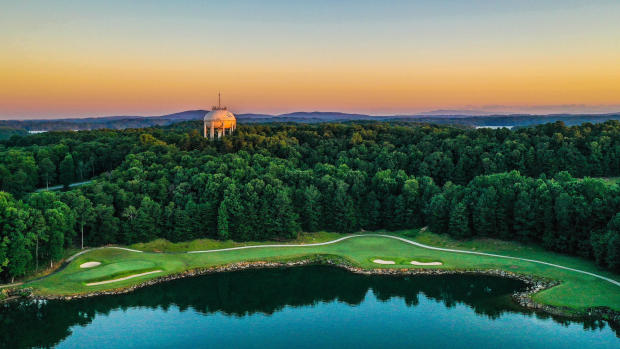 Buford, GA
A quick Google search of this throwback southern jewel and you're sure to be wowed by its drone-shot aerial topography. More than two-thirds of the holes hug Georgia's biggest body of water, Lake Lanier, a reservoir and recreational hotspot northeast of Atlanta.
Billy Fuller, former superintendent at Augusta National, spearheaded the blueprint (which opened in 2009), so expect top-end course conditions one through 18. You can leave the big stick in the bag on a number of holes at Lanier, but don't discount its short length. Wet and woodsy is the name of the game around here.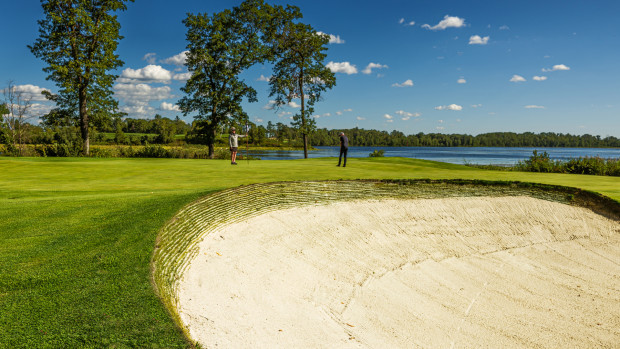 Brainerd, Minnesota
In the Land of 10,000 Lakes, it's almost impossible for a golf course not to be waterside. Here, you get a multi-course entry in Brainerd, an underrated golf destination in central Minnesota. Cragun's Resort on Gull Lake just unveiled its re-designed Lehman 18 course, named for Tom Lehman, its architect and major-winning home state legend. Part of an Audubon Signature Sanctuary, prepare for wetlands, sod-riveted bunkering, lengthy par 5s, and six holes along Stephens Lake.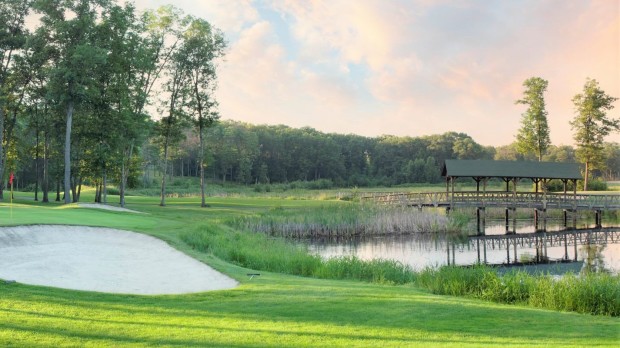 Brainerd, Minnesota
Across the street, The Classic at Madden's, a Top 100 public course by Golf Digest, presents a hilly challenge with fast greens and plenty of water. Deacon's Lodge, another nearby favorite, can be read about here.
Source link: https://www.mensjournal.com/travel/lakeside-golf-courses-america by T.J. Olwig at www.mensjournal.com