There are two types of menswear products that are extraordinarily easy to fall in love with — a clean pair of leather boots and a well-fitting pair of jeans. The best jeans for men are the ones that can be relied on everyday to compliment a man's body type, provide flexibility when in motion, and remain unraveled over the years despite inevitable dings and scratches.
In this way, men's jeans become an identity. People take note about the way a man wears his jeans and the fit he chooses; they say a lot about his character. Is he a steadfast man who buys the same pair of Levi's 501 Originals every year or does he experiment with trends like carpenter jeans, patchwork, or relaxed fit? It's fine to do a little of both, but one thing is for sure — the fit needs to be on point.
Shopping for Jeans: A Good Fit Is Essential
Men's jeans need to fit, and they need to fit well. But fitting well doesn't have to mean fitting tight. The proper fit isn't restricting nor is it slouchy; instead, the ideal is to sit under or at the waist and produce some sort of proportional shape. As easy as it sounds, many guys have issues with fit because of the size of their quads, calves, and hamstrings, among other things.
The first step in determining the best pair of jeans for you is getting an idea of the shape and size of your body and seeing how that compares to the three generalized body types — ectomorph, mesomorph, and endomorph. Not every guy with fit any one of these perfectly, but it's a good place to start.
Determining Your Body Type for Jeans
Here's what you need to know to figure out what body type is most like yours so you can find the best pair of jeans:
An ectomorph is typically taller (but can be short), has a smaller frame, and displays very lean (or skinny) muscle mass. Think Adam Levine, Matthew McConaughey, or an NBA baller like Kevin Durant. Ectomorphs should look toward straight-fit jeans with a low-to-regular rise and avoid super skinny jeans as the tight fit will makes them look even smaller.
An ectomorph-mesomorph is a tall-ish, skinny-ish guy who is slightly larger than an ectomorph but slightly smaller than a mesomorph with moderate muscle definition. The best jeans for men of this body type are straight- or slim-fit with a low rise.
A mesomorph is an average guy with an average frame. This body type is typically athletic with a lean, muscular build and showcases a rectangular shape. These guys should seek athletic, straight, or slim-fit jeans with a low or medium rise.
A mesomorph-endomorph is slightly larger than a mesomorph but slightly smaller than an endomorph and is typically average height with big muscle mass—think Chris Hemsworth after training for Thor: Love and Thunder. These guys should lean into athletic, relaxed, or slim-straight jeans with good stretch.
Finally, an endomorph is a large guy with a large frame. Typically, endomorph guys are short and stocky (but can be taller) with heavy muscle mass and a wide, round frame. Taller endomorphs should look for athletic-fit jeans or anything with a wide-leg to go over those quads and avoid low rise jeans at all costs. Shorter endomorphs should seek slimmer jeans or an athletic slim-fit and avoid wide legs, as these will make them look heavy.
With these body types in mind, you can form a general idea of which jeans will look most flattering. It's always important to pay attention to a brand's size chart, though, to make sure you order the best size based on measurements.
Men's Journal aims to feature only the best products and services. We update when possible, but deals expire and prices can change. If you buy something via one of our links, we may earn a commission.
The Best Jeans for Men in 2023
'90s-inspired but not quite vintage (yet), the Madewell 1991 Straight-Leg Jeans usher in a feeling of nostalgia from one of the more colorful, exciting eras of streetwear. These raw-looking men's jeans are relaxed in the hip and thigh, with only a slight amount of stretch, and shoot straight down to the ankle where a pair of Hi-Top Converse All-Stars is almost a mandatory footwear selection. Enjoy these Candian-born Madewell jeans in one of eight different washes with a clean hem or with a nice, contrasting cuff.
[$168; madewell.com]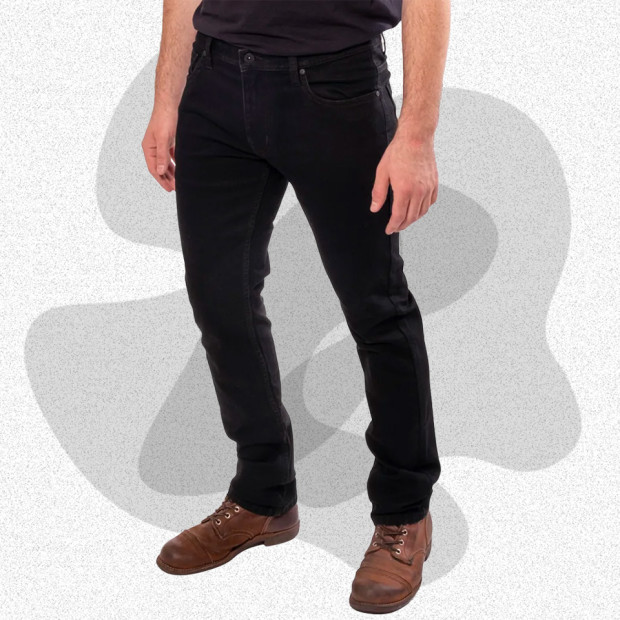 Waist sizes ranging from 26-50; inseams measuring from 26-38; six different fits from skinny to "Thicc Thicc;" over a dozen different washes and all for under $100 — whichever way you approach this brand, it's hard to deny that The Perfect Jean has methodically backed up its name. We've tried them ourselves, they're fantastic. After finding the right size (try your usual and one down), they break in beautifully. They cuff well and they're not too heavy or too flimsy, which is something you'd expect from denim in this price range. Aside from the site photography, which seems to focus more on dudes doing yoga in these ultra-flexible jeans than allowing customers to inspect the product itself, we'd say they're on the right path to perfection.
[$80; theperfectjean.nyc]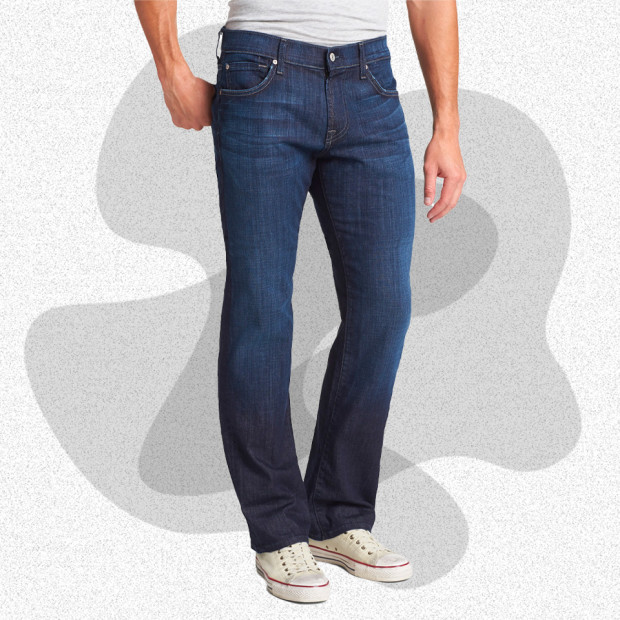 7 For All Mankind jeans feel special as soon as you pick them up. Supremely soft and luxuriously colored, 7 has earned itself a cult following. The Austin, one of the brand's core styles, is a relaxed fit with a straight leg. This is one of the best men's jeans for boots, with a smooth drape over the top of any style, even something as wide as a pair of cowboy boots. This pair of Austyn jeans, the Los Angeles Dark Wash, is made in the US and features the brand's signature red tab insignia and squiggle design embroidered across the back pockets.
[$178; nordstrom.com]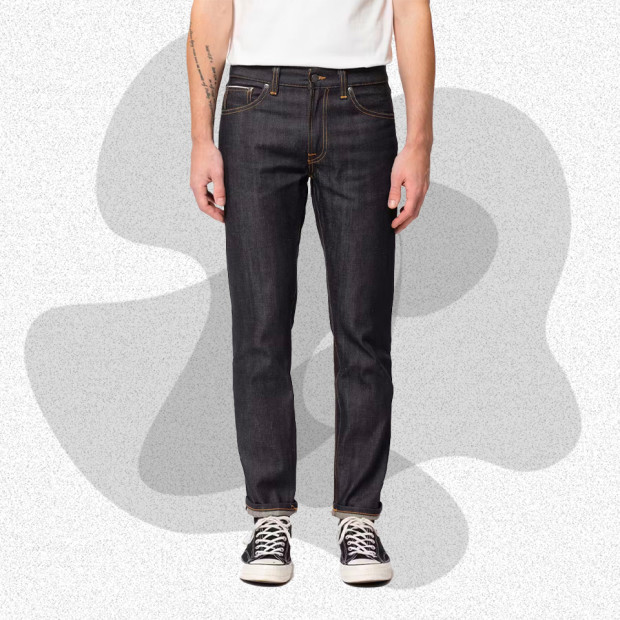 Nudie is known for making some of the best salvage jeans for men and the proof is in the pudding, or the artwork, at least. Many of Nudies' site visuals depict the life of its lived-in denim, complete with worn-in patinas, prominent crease marks, and natural embossing from where wallets and cell phones live. The Gritty Jackson style, a tad wider than a regular straight, is easy to wear and a great way to make the transition into selvage denim. At 13.75 ounces, this mid-rise pair of men's jeans has much to love with its deep, everyday indigo wash, orange accent stitching, and back pocket embroidery.
[$280; nudiejeans.com]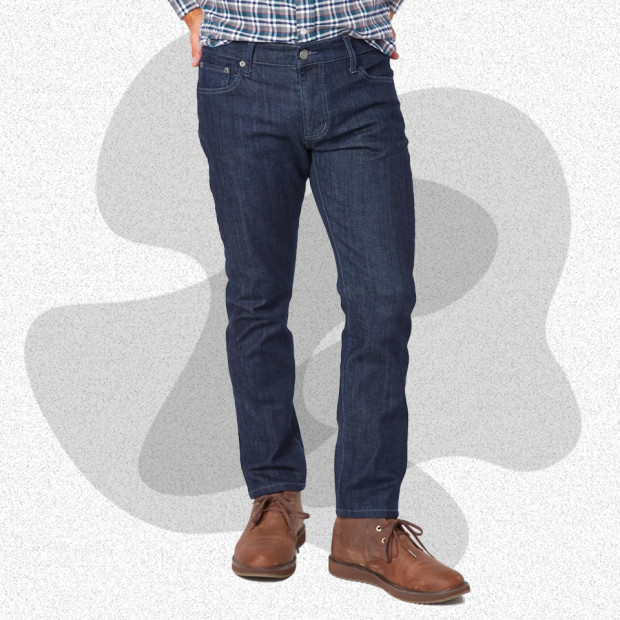 Short kings: Listen up. Designed for guys under five-foot-eight, Ash & Erie makes the best jeans for short men. Size matters when it comes to looking put together or looking like a schlemiel with pants that don't drape correctly. This has been a problem for short guys forever, but Ash & Erie's Essential Jeans have an inseam that ranges from 25-29 and accommodates guys with waist sizes from 28-38. Gone are the days of "I just get all my pants taken up." Now, you can save the $20 and put it toward a pair of Ash & Erie chinos, one of their popular t-shirts, or a dress shirt with a proper hemline and sleeves that don't bunch.
[$158; ashanderie.com]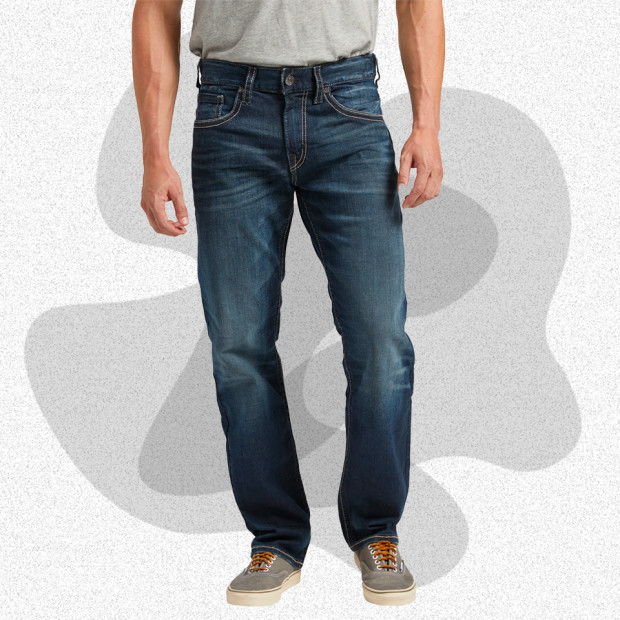 Silver Jeans Co. has been outfitting guys with good jeans for nearly a century, which was time enough to learn that men come in all shapes and sizes. That's why Silver Jeans Co. makes the best jeans for big and tall guys. Common problems guys face are finding jeans for big thighs, jeans with longer inseams, and anything that requires more than average. But the Eddie Relaxed Fit, among the brand's other men's jeans, offers waist sizes up to 44 and inseams up to 36. As men's jeans trend roomier, this relaxed fit with its tapered leg is a perfect pickup for the endomorph man.
[$99; amazon.com]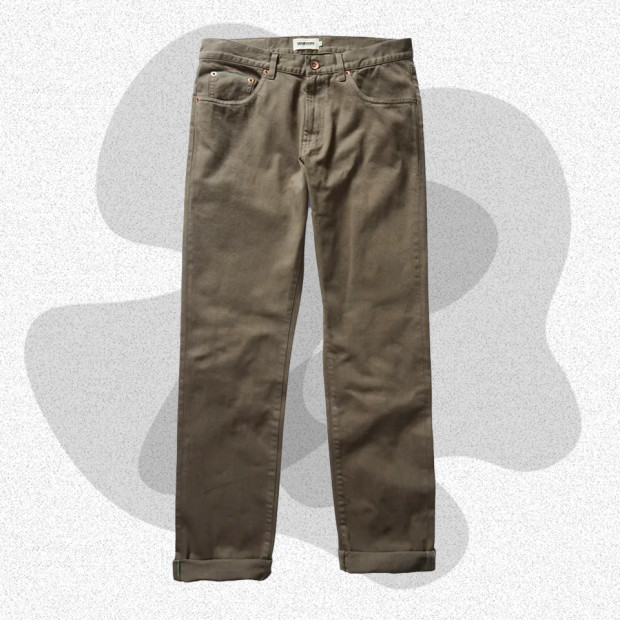 Taylor Stitch makes some of the best t-shirts and jackets for men, but the brand's denim selection is special. The Democratic All Day Pant was "a creative experiment turned TS fan favorite," according to Taylor Stitch, due to its hard-wearing materials combined with its ability to blend into the vibe of any social environment. That means you don't have to wear a pair of Red Wing boots to pull these off. Available in three selvage washes (and two regular), The Democratic All Day jeans are a standard medium rise with a straight leg that leaves enough room to keep all parties comfortable throughout the day.
[$138; taylorstitch.com]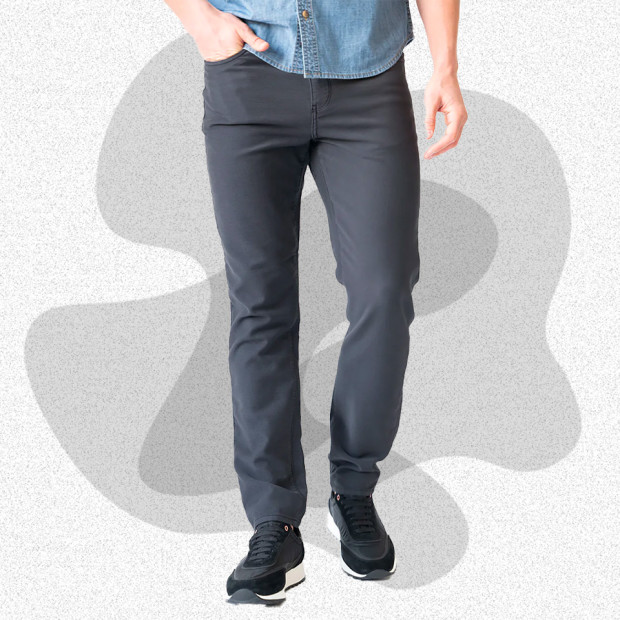 If "devil dog" means "creme-filled cake sandwich" to you, listen up. The term "Devil Dog" was coined in the WWI era as a nickname for the US Marines. That's where Devil-Dog Dungarees got its name back in the 1940s. Today, the brand meshes its reputation for hard-wearing denim with the needs of modern men, like breathability and flexibility. The Comfort Jean, for example, is made with a strong twill fabric but offers much in the way of stretch. A true slim-fit, these are the best jeans for men who want something soft without sacrificing durability.
[$89; devil-dog.com]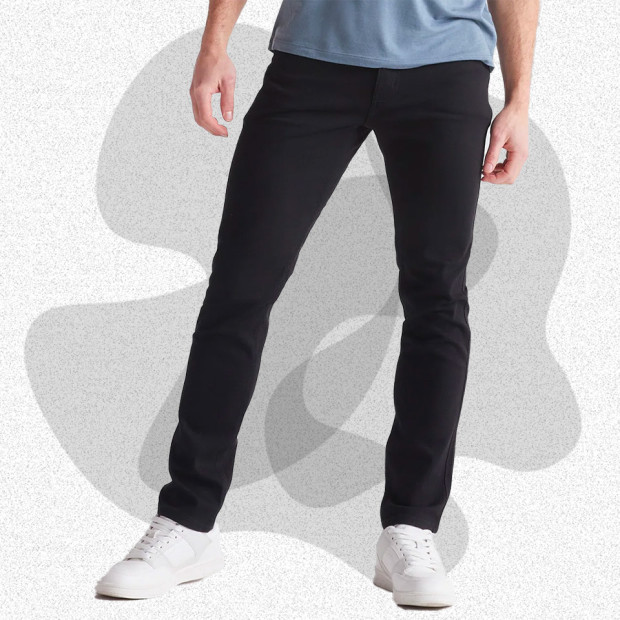 Duer is hiding something that's making crotches everywhere rejoice. Before that thought veers off-trail, it's the brand's signature hidden gusset. A gusset, which is basically an extra wedge of fabric that enlarges an area, has been integrated into the crotch seam of each pair of Duer pants, including the slim and two other fits of the Performance Denim. This small strip of fabric goes a long way to expand the crotch and raise the seat, making these some of the most comfortable jeans men can buy. Pair that with Duer's temperature-regulating, antimicrobial stretch fabric that keeps you cool and dry to find your next favorite clothing brand. Select your normal size for a comfortable fit or size down for a fit more comparable to skinny jeans.
[$139; shopduer.com]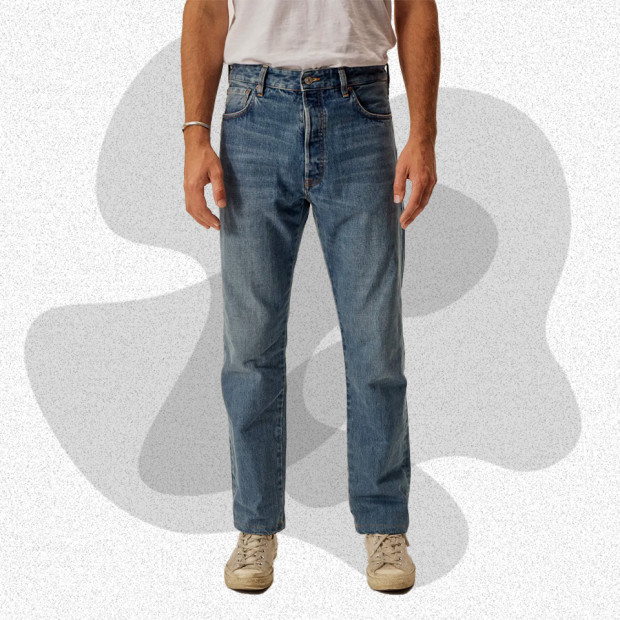 Buck Masons's Japanese Selvedge Full Saddle Jeans are a note on how quality men's jeans shift with fashion trends. Pants are getting more relaxed, and while it may be hard for Gen X and millennial guys to fully switch from the slim fit, the light at the end of that tunnel comes in the form of breathing room. That's what the Full Saddle style offers. A great fit for all body types, this is a high-rise, relaxed-fit pair of jeans made with great Japanese selvage denim. It's the pair that sits on the chair next to the bed when you sleep and goes back on first thing in the morning — live-in jeans at its finest.
[$175; buckmason.com]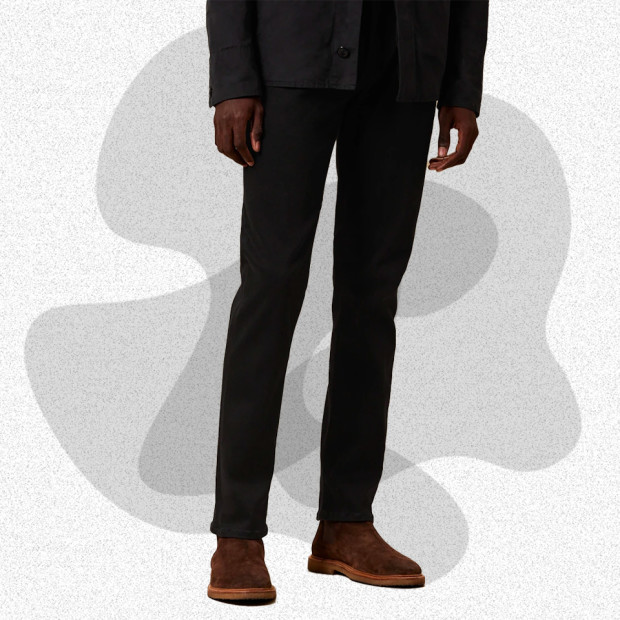 When the Traveler pants dropped at Banana Republic a handful of years ago, it was a crazy success. Since then, the brand doubled down on the style, introducing more fabrications, fits, and colors. But the idea remained the same — guys need a pair of work-appropriate pants they can move around in. Today, we get the Slim Luxe Traveler Jean in black. These black jeans are constructed with a material called Tencel, one of the softest a guy could hope for. Enjoy jet setting, running around the city, or chasing after small kids in these jeans, comfortably. And if that's not miraculous enough, how about a pair of black jeans that stays black after washing?
[$130; bananarepublic.com]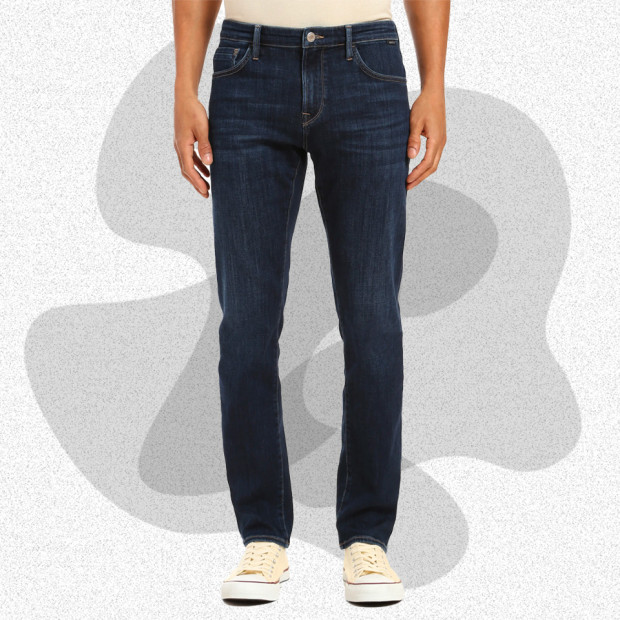 The Mavi Marcus Slim Straight Jeans are the best jeans for guys who don't like to shop. Why? This pair checks all the boxes of "regular jeans" while adding some new, refined features. For example, this particular pair of slim straight jeans is medium-weight with a little bit of stretch but also provides some substance so they don't feel like leggings. The slim straight fit and dark indigo wash are also very easy to wear both casually and in a more formal setting thanks to its slimming hue and taper around the ankle, respectfully.
[$128; nordstrom.com]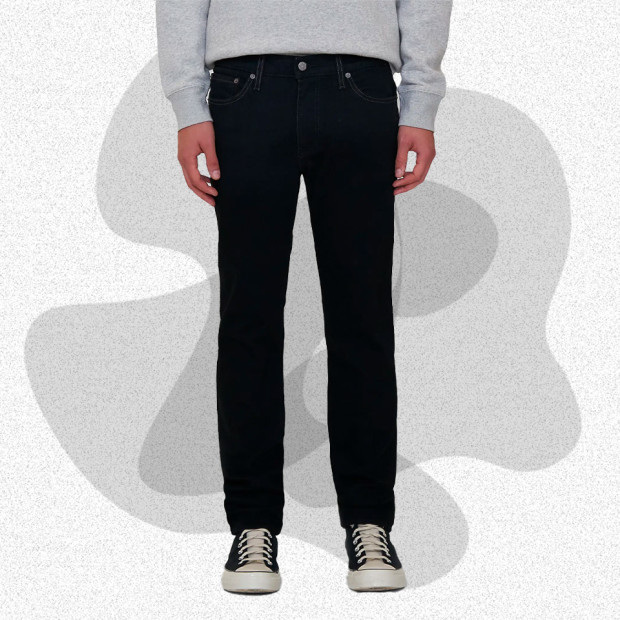 Possibly the second-most popular style of Levi's men's jeans, the 511 is a tried and true slim fit. With almost as much of a following as the iconic 501 jeans, the 511 is comfortably trim through the seat and thigh and tapers just enough down toward the ankle. It's one of the best men's jeans to wear with low-profile sneakers like the Vans Slip-On or the Cariuma OCA Low thanks to the narrow opening at the bottom that doesn't bell out too far. This pair in the "Black Leaf Adv" wash features brushed metal hardware and a very cool white stitch that adds a subtle contrast to the dark denim and looks great with white-soled sneakers.
[$90; nordstrom.com]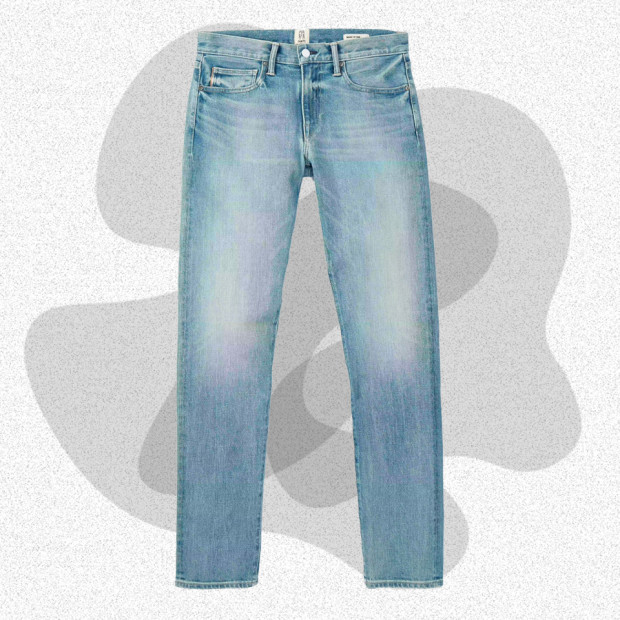 Selvage and stretch aren't typically seen together, but Kato' is playing matchmaker with the Pen Slim Selvedge jeans. Kato' has developed these 14-ounce slim selvage jeans for men who might feel otherwise suffocated from the rigidity of raw denim by adding in a four-way stretch. This creates better mobility so that the first handful of wears don't have you walking like the Army guys from Toy Story. With nine washes to choose from, there's a pair of these for every guy.
[$268; huckberry.com]
Part of Everlane's Uniform collection, a montage of high-quality men's staples for everyday wear, the Athletic 4-Way Stretch Jeans are some of the best jeans for men with big thighs. With extra room up at the top and plenty of stretch, what makes this take on athletic jeans so good is the sharp taper down the leg toward the ankle. They're available up to a size 40 waist in four different inseam lengths with the options of black, dark blue, and smoky gray. As part of the Uniform collection, they're also backed by a fantastic 365-day guarantee.
[$98; everlane.com]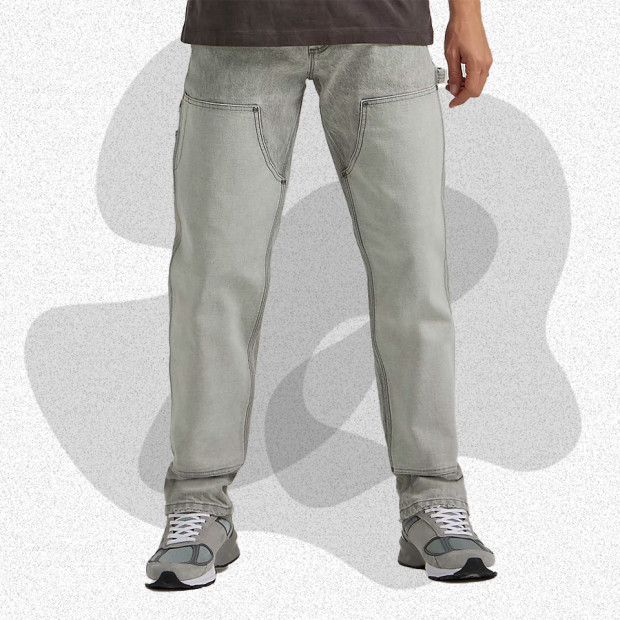 They're back — men's carpenter jeans. While Lee's carpenter jeans have maintained a small, mainly utilitarian presence between the '90s and today, the brand is leaning into cooler variations of the style for those who wish to celebrate this trend in menswear. This pair of men's carpenter jeans, for example, employs a cool double knee for reinforcement, seven total pockets, and the signature carpenter loop for your trusty hammer. If not solely for the love of fashion, these could be great jeans for skateboarding or DIYing around the house.
[$69; lee.com]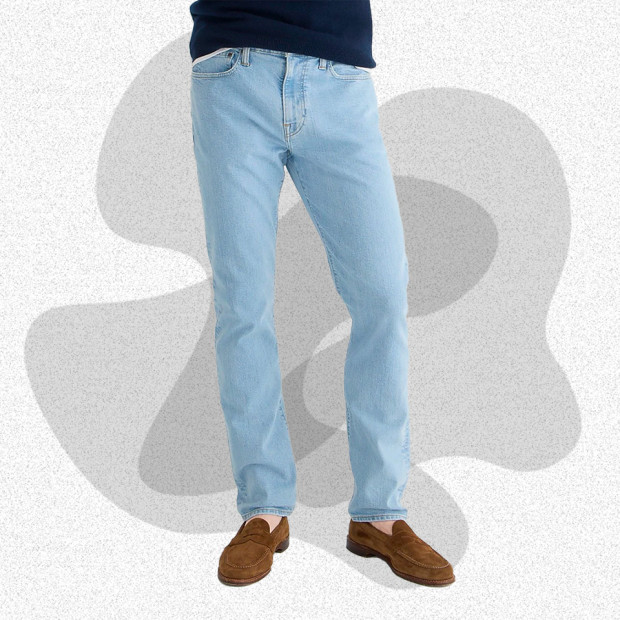 Putting on a pair of J.Crew 770s is like coming home after a long trip. For many, J.Crew denim is familiar, a place well known that's a source of comfort and relaxation — and that's not even a metaphor. J.Crew's men's jeans have stayed consistent in quality, style, and fit over the years and are often relied on for providing the same feel every time. What's the draw? The 770 jeans are the brand's straight fit; a mid-rise that's fitted up top with a slim-straight run down the leg. They fit the way many guys wished slim jeans would fit and just get more comfortable as they continue to be worn.
[$128; jcrew.com]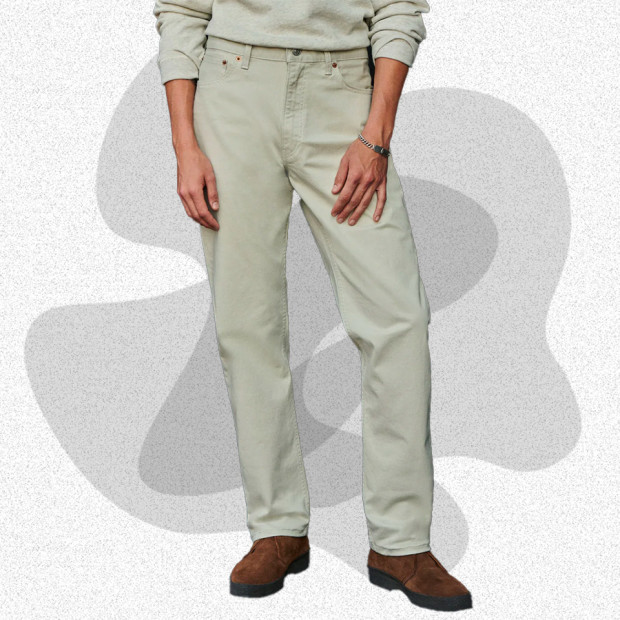 The newest style of the fan-favorite Ford Standard Jean, the Buck Mason Roper Twill is a three-color collection of lightweight, twill fabric pants. These five-pocket, mid-rise, straight-fit jeans are the perfect option for transitioning from warmer weather into cooler temperatures thanks to a very light, 9.5-ounce cotton and a touch of stretch. The "Oyster" colorway is especially intriguing and might be an excellent companion to a new pair of men's boots this season.
[$138; buckmason.com]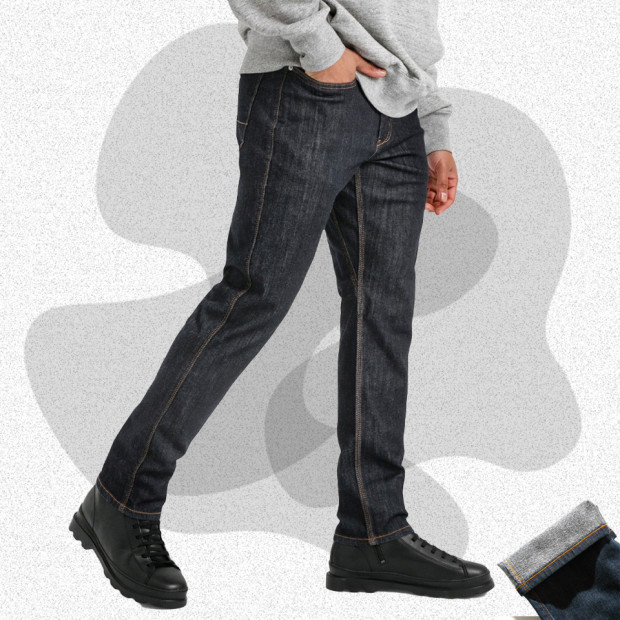 For the chilly days ahead, there's nothing better than Duer's Fireside Performance Denim. They're fleece-lined but way lighter than you'd expect and are the best jeans to wear in cold weather. Using technology that interweaves the inner fleece and outer denim instead of gluing them together, Duer has been able to strip out some of the extra weight normally felt in jeans like this. Still donning the brand's signature hidden gusset, this pair has added a DWR (durable water-repellent) coating to help resist moisture. It's a great pair to pick up and wear from October through March.
[$169; rei.com]
The Mott & Bow Mercer Jeans are the perfect men's jeans for summer. Even when it's shorts weather, sometimes pants are required for work environments or special events like rehearsal dinners. But what makes these jeans the best fit for warm weather is the fabric. The Mercer jeans are made from cotton twill denim that's soft, insanely flexible, and more breathable than most jeans. Add 15 different colors and three unique fits on top of that and you've got a winner.
[$129; mottandbow.com]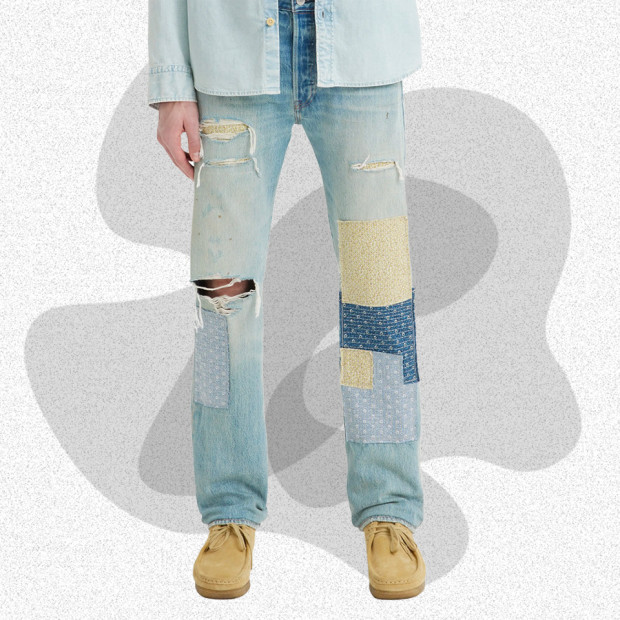 Sometimes different can be cool. For guys who like to experiment with their clothing or are just tired of wearing the same thing, breaking up the monotony with texture can be a welcome change. This pair of Levi's 501 jeans with sort-of extreme but neutral-color patchwork and distressed detailing is a neat pick-up for fall. The colors aren't crazy loud but it still offers something new and exciting to freshen up a plain wardrobe and will definitely garner conversation.
[$88 (was $148); nordstrom.com]
Source link: https://www.mensjournal.com/style/best-fitting-jeans-men-20-pairs-denim-5-major-body-types by Anthony Mastracci at www.mensjournal.com